Insights
Dear Employers: Want Gen Z to Work for You? Address Climate Change
How Business Leaders Can Attract Gen Z Employees to Their Workforce
October 4, 2022
Gen Z is Unique — and Growing
The Generation Z workforce wave is coming. We are estimated to account for 27% of the workforce in OECD countries and one-third of the earth's population by 2025. Around 10,000 Baby Boomers retire every day, with Generation X, Millennials, and Gen Z eager to fill the roles they leave behind. We have high standards for ourselves, and even higher standards for the companies we work with.
At the same time, the pressure of our consumer preferences is growing in the workplace and in the market. Companies that want to attract this growing bloc of employees, consumers, and investors must understand where we come from, and what we have to offer.
Our generation has several characteristics that make us unique — and make us disruptive. We are the most educated and diverse generation in U.S. history and the first to be characterized as digital natives due to an upbringing immersed in the internet. We matured amid fast-paced social change and major world events, including 9/11, the Great Recession, the election of the first Black president, social movements such as #MeToo and #BlackLivesMatter, and the ongoing climate crisis. As the first of us graduated from college and set our sights on the workplace, a global pandemic dismantled opportunities and redefined the nature of work we had come to expect.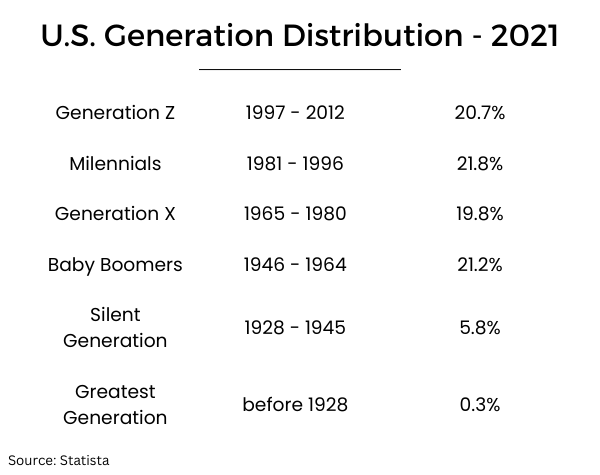 Gen Z Brings its Strong Identity to Work
Our generational ethos is found at the intersection of social progress, globalization, and digital transformation. We were molded by world-shaking events. Our tumultuous upbringing, combined with the ability to quickly access information and form opinions on the internet, means our preferences in the workplace are steadfast. We are a generation of activist consumers and employees, and we expect companies to reciprocate.
80% of Gen Z job seekers want a job that aligns with their values, compared to only 59% of Millennials, 49% of Gen X, and 47% of Baby Boomers. A company's social impact is more important to us than brand prestige, and equally as important as salary compensation when we are considering where to work. This preference manifests on the consumer side, too, with 75% of Gen Z consumers prioritizing sustainability over brand name when making purchases.
While we are deeply entrenched in a range of social issues, some take a higher priority than others. In a 2019 Amnesty International survey of Gen Z respondents across 22 countries, 41% of respondents identified climate change as the "most important issue facing the world," with the next closest issue being pollution at 36%. Our climate-conscious attitude persisted through the pandemic, with a 2021 survey of 16-25 year-olds revealing 84% of respondents were consistently worried and anxious about climate change.
Gen Z Demands will Impact the Workplace
The demand for digital skills is fierce, and will only become fiercer with the increasing pace of change in technology. Thriving as a business in the future will require a marriage of technicality and creativity, and the ability to adjust to new tools through continuous learning, multidisciplinary collaboration, and new ways of thinking.
Polymath Gen Zers are ready to step up to the challenge. We are more comfortable with digital tools and human-machine interactions as compared to older generations. Our higher levels of creativity and diversity also make us highly cross-disciplinary, with skillsets that cut across the humanities, STEM fields, languages, and critical thinking. We are eager to collaborate with our inter-generational colleagues, while at the same time willing to challenge traditional authority and ways of working.
Meeting Gen Z preferences is a tradeoff, but it is also an opportunity to evolve. We are a unique talent pool that could give businesses a competitive edge in the short term and take the helm as innovative leaders in the long term.
Gen Z will also drive business change from the consumer side. We are willing to pay a premium for sustainable goods, but we have also pressured older generations to follow suit. Gen Z also holds companies to a higher standard for sustainability than older generations, with a view that extends beyond the products on their shelves and permeates their entire supply chain and stakeholder system. This rising pressure should not be overlooked: We are expected to overtake Millennial buying power by 2031 and bring with us a wave of disruptive capital.
Gen Z Preferences in The Real World
The companies that adjust will thrive. Take the example of a company with a history of corporate activism: Patagonia. The outdoor lifestyle and apparel brand has ingrained conservation into its core principles through practices such as dedicating 1% of sales to environmental causes, sustainably sourcing materials for its products, and upcycling. Recently, founder Yvon Chouinard transferred his family's $3 billion ownership of the company to a trust and nonprofit organization which dedicate Patagonia's profits to combating the climate crisis.
These commitments have paid off under the critical Gen Z eye. The Sid Lee "Belong Index" quantifies which companies connect best with consumers based on generational attitudes. Patagonia ranked 3rd for Gen Z in the 2021 Belong Index and was identified as one of the top 10 companies "defining the future of business transformation" along with companies like Nike, Peloton, and Disney. Anecdotally, my peers and I are willing to go out of our way to purchase from Patagonia over similar, often more convenient options because we feel we are contributing to the solution rather than the problem.
Business Can Strategize to Meet the Moment  
Generation Z will shape the future of work — but what does that future actually look like? It is more inclusive, more in tune with its employees' values, and tracks the momentum of broader social changes. Its values are visible to the outside world, but also deeply entrenched throughout every facet of operations.
The company of the future doesn't stop at acknowledging environmental impacts. Rather, it makes the sometimes-difficult changes necessary to reduce those impacts in its own operations, while also pressuring its peers to do better.
On the other hand, the future workplace teems with creative, ambitious, and agile Gen Z talent. Employees across the generational spectrum continuously enrich one another with lessons in digital tools, business etiquette, and pop culture. The organization thrives in a multidisciplinary world, with an eye to the digital horizon.
Companies can realize this future by meeting Gen Z where we are. But we know change isn't easy. Gen Z is only one force among many that companies must consider when balancing growth with progress. Good sustainability sometimes requires forgoing the "easy option" at risk of agitating investors, while balancing complex internal changes and drumming up employee buy-in.
But these changes are worth it. They are necessary. Preparing for the future through practices such as scenario planning helps organizations navigate the various current and oncoming pressures impacting their resilience, and ensures that they leave behind a company — and a planet — for their younger workers to carry on.
To learn more about how scenario planning can help your organization identify, understand, and prepare for climate uncertainty or TCFD Climate Scenario Analysis, contact us.
Related Topics
5 Signs Your Organization Needs Futures and Foresight
Innovation is the Father of Necessity
How does true innovation occur? The key is looking within your organization to build an ecosystem that supports a process of successful disruption.
Alternate Futures® Scenario Planning Finds Clarity in the Chaos
Alternate Futures® Scenario Planning allows leaders to "stand in the future" to test and experience the opportunities, risks, and consequences of various courses of...
Get The latest Toffler Insights & News