The Toffler Legacy
Alvin & Heidi
The beginning of a vision
The legacy of Toffler Associates is rooted in the ideas and methodologies of world-renowned futurists Alvin and Heidi Toffler, whose work foreshadowed the sweeping effects of rapid technology development on people, businesses, and governments.
The Tofflers are known widely for their global bestsellers, including Future Shock, The Third Wave and Powershift, all of which have been translated into dozens of languages.
May we have your attention please
Their work influenced politicians, generals, executives, musicians and writers, including former Chinese prime minister Zhao Ziyang, former Soviet leader Mikhail Gorbachev, former House Speaker Newt Gingrich, and some of the most prominent innovators of our time. J.D. Power cites the Tofflers as mentors. Ted Turner credits Toffler works with inspiring him to start CNN in 1980. And for Steve Case, The Third Wave struck like "a lightning bolt" that created his obsession with cyberspace and ultimately led to his co-founding AOL.
Keen Observers of Global Trends
Alvin and Heidi's wide life experiences infused their work as keen observers and predictors of global trends. Alvin's notable career includes work as an editor at Fortune magazine, a White House correspondent, and an educator.
From the beginning, they pursued knowledge up close. To become fully informed about assembly lines, industrial mass production and modern management, they moved to the Midwest and took blue collar jobs – Alvin became a welder and Heidi worked on the line at the local aluminum foundry. Heidi eventually became a United Auto Worker union shop steward and, while in that role, led the integration of a community swimming pool for the annual company picnic. Alvin's welding experience led to a stint as a newspaperman, writing first about labor before shifting his focus to business and management, and then to the computer and telecommunications businesses.
1970: The Tofflers Publish Future Shock
By the mid-1960s, the Tofflers began work on what would become Future Shock, the book that launched more than five decades of worldwide command and respect for the Tofflers as authors and lecturers.
The Tofflers bravely forecast many of the realities of contemporary society and politics, including the acceleration of daily life, the decline of the nuclear family, cloning, virtual reality, information overload, and the threat of terrorism. Many of these predictions have come to bear and the central thesis of their work has proven absolutely true – that a knowledge-based new economy would replace the Industrial Age.
1996: Heidi and Alvin Toffler Found Toffler Associates
In 1996, the Tofflers co-founded their namesake advisory firm, Toffler Associates. They wanted to expand their capacity to guide governments and businesses working to transform their organizations to be Future Proof®.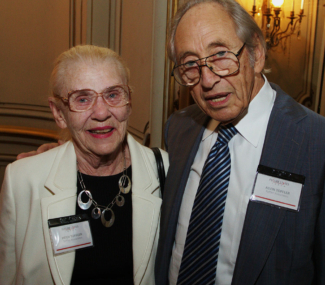 They set the standard by which all subsequent futurists have been measured.
Time Magazine
2016 and 2019: Alvin Toffler then Heidi Toffler pass away
Alvin passed away in June 2016 at the age of 87, and Heidi passed away in February 2019 at the age of 89. Though they had retired from business life, the vast influence of their curiosity, methodologies, and passion for architecting better futures lives on through the work that Toffler Associates continues to do for organizations across the globe.